At Lakewood Camping Resort, we're always looking for new opportunities to serve our guests. This week, we expanded the food options for campers, once again, by adding Chick-fil-A to the list of eateries available within the resort!
Now, you can get your favorite chicken sandwich from this red trailer along Ocean Boulevard without ever leaving the park!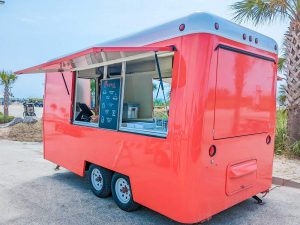 The Chick-fil-A trailer is open Tuesday thru Thursday from 11:30 a.m. – 4:00 p.m.
On Thursday, June 16, the first day of offering Chick-fil-A, the line stretched down Ocean Boulevard. In fact, the trailer was scheduled to be open until 7 p.m., but due to the large quantity of orders the hours were scaled back to 4 p.m.
Here's a look at the menu:
Chick-fil-A brings the total number of Oceanfront food options to seven with Montana's Fish Fry, Gracious Pig, JimmyZ Hibachi, Ricciardi's Italian Ice, Low Country Concessions and Smoothie Chemist also in the mix of vendors available just steps from the beach. These options are all in addition to Lakewood's own eateries; the Seaside Cantina, Snack Shack, Sandcastle Creamery, Trading Post and Beach-Bum Coffee House.
You can always look up the days & hours of operation for all food options on the Lakewood Camping Resort app!
It's our pleasure to make it easy for you to fuel up for a day of fun in the sun!